Analytics and research firm Absolutdata has launched a platform called NAVIK ResearchAI, which brings together a wide variety of methodologies, data types, artificial intelligence (AI) and machine learning techniques to automate the research process end-to-end.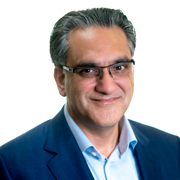 Absolutdata offers big data and business analytics, modelling, reporting and data management from offices in Delaware and California in the US, as well as Dubai, India, Singapore and the UK. The firm's NAVIK AI Platform helps clients optimize business decisions 'on an ongoing basis without having to build a data science team'; while its NAVIK MarketingAI offers a personalization tool for non-technical marketing staff; and its automated testing tool NAVIK ConceptAIprovides decision support for concept testing.
The newly launched ResearchAI platform uses natural language processing (NLP) to convert a company's research into answers – enabling business users to conduct research using intelligent algorithms, with natural language question and answer capabilities and automated report creation. Results are continually used to 'train' self-learning algorithms, to gather understanding about individual companies over time.
Anil Kaul (pictured) CEO and co-founder of Absolutdata, comments: 'Instead of 'renting' expensive external expertise in the form of pricey market research contracts, companies are 'renting' algorithms and tailoring them to their business needs to get the insights they need more quickly. Our new products enable companies to conduct market research without bringing in consultants and waiting for reports, which makes the business more agile'.
Web site: www.absolutdata.com .